---
Pine grows sky-high and widens beautifully toward the top. The same design language recurs in Pine Chalet. The timber is stacked so that the Chalet widens toward the roof. The build shows beautifully on the outer wall of the Chalet, echoing shapes in nature. In addition, the Chalet's shape is trapezoidal, allowing the openness and lightness of the space to blend in a unique way.

The lightness let in by the panorama windows combined with the solid wood creates a natural quality in the space. It also functions as a gateway to the surrounding environment and brings nature close enough to touch. Whether it is time for calming down, thinking or yoga that you need, Chalet creates a whole new space for it.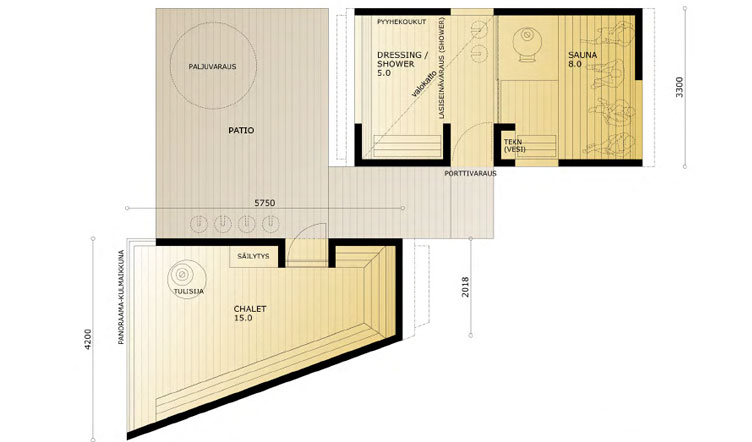 WILD and URBAN
There are two different equipment types for the Pine Chalet: Wild and Urban. Wild is for those who desire a self-sufficient and primitive Chalet, and Urban is for those who value ease and comfort. Chalets with the Wild equipment are also granted the Karhun Käpälä stamp. It speaks of our product's natural materials, of the most ecological production methods possible, and of the time-enduring structures. The Käpälä stamp, a life-sized bear paw, is carved into the outer wall by hand.
Chalet colour options: Natural, Pitch, Grey, Tar
Delivery content: The product is always ready to use, delivery terms can be separately agreed upon.
Equipment options: With the Wild stamp: Fireplace, Solar electricity, LED-lighting and a 12 volt electricity system with a battery.
Urban: 230 volt electricity system, heating option.
Additional options: Artistic touch, floor plan, glass solutions, inside surface materials, project planning and implementation, earthwork and foundation service.
Use: Producing a forest therapy experience. Pineart products have an increasing and sustaining effect on contentedness.
Size: 15m2
Weight: approximately 6 tonnes
© Our products are copyrighted and the Pine trademark is protected. Pineart Production owns all rights to the images, including both photographs and drawings.

---
Room to relax

Handmade