---
Pine grows sky-high and widens beautifully toward the top. The same design language recurs in the Pine Sauna. The timber is stacked so that the sauna widens toward the roof. This shape creates an intriguing feeling of a very open space. The build shows beautifully on the outer walls of the sauna, echoing shapes in nature.
The large glass surfaces inside the sauna provide an exciting contrast to the rough, primitive wood. They separate the sauna from the dressing area and keep the steam in the steam room, but do not prevent light from travelling freely. The rafters and the wooden lattice create interesting shadows in the inner space. On the other hand, the lattice also provides a view both up to the sky and out to the yard, so that in the sauna, one can have a feeling of both being part of nature and in complete peace.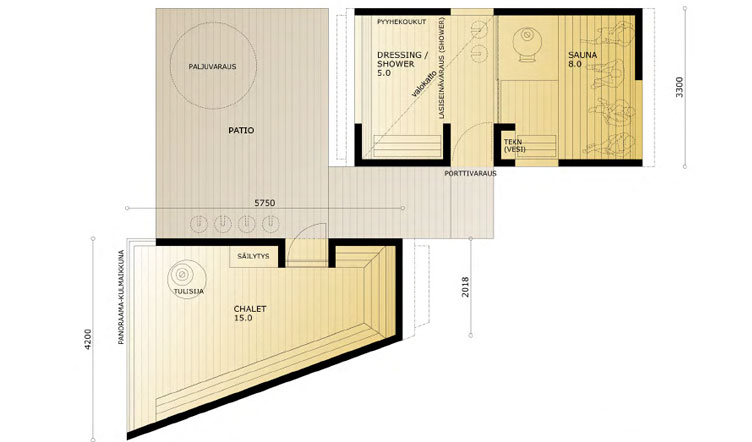 WILD and URBAN
There are two different equipment types for the Pine Sauna: Wild and Urban. Wild is for those who desire a self-sufficient and primitive sauna, while Urban is for those who value ease and comfort. Saunas with the Wild equipment are also granted the Karhun Käpälä stamp. It speaks of our product's natural materials, of the most ecological production methods possible, and of the time-enduring structures. The Käpälä stamp, a life-sized bear paw, is carved into the outer wall by hand.
Sauna colour options: Natural, Pitch, Grey, Tar
Delivery content: The product is always ready to use, delivery terms according to the agreement.
With the Wild stamp: A wood-heated sauna stove with a chimney, with or without a kettle, a solar power unit, LED lighting and a 12 volt electricity system with a battery, drainage.
Urban: A sauna stove with or without a kettle, a customisable 230 volt electricity system, heating option, customisable water system.
Additional options: Artistic touch, floor plan, glass solutions, shower area, inside surface materials, project planning and implementation, earthwork and foundation service.
Use: Used for quieting down and relaxing. Pineart products have an increasing and sustaining effect on contentedness.
Size: (Sauna 8 + Patio 3 + Dressing room 5m2)16m2, Sauna 8–12 people
Weight: Total approximately 6 tonnes
Modules: Sauna, patio and dressing room, Sauna with patio, Dressing room
© Our products are copyrighted and the Pine trademark is protected. Pineart Production owns all rights to the images, including both photographs and drawings.

---
Room to relax

Handmade